Protecting and Serving

OC's Filipino Community
With over 15 years of legal experience and over a hundred success stories, Christopher Andal is here to serve you.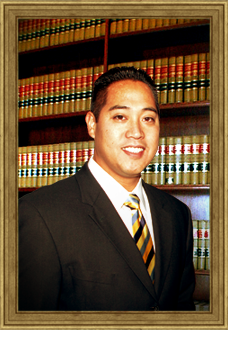 OC Filipino Attorney
Christopher N. Andal is the principal of the Andal Law Group of Orange County, which he founded in 2009. Mr. Andal has been involved in civil litigation for nearly 15 years and has recovered millions of dollars on behalf of his clients as well as successfully defended them. His law firm practices a wide range of legal matters protecting and serving Orange County Filipinos, drawing largely from his own extensive litigation and trial experience. Mr. Andal's clients are representative of his firm's diverse practice which includes individuals, small businesses, insurance carriers and Fortune 500 companies.
Mr. Andal began his legal career in Orange County as a file clerk and worked for many years as a paralegal and office manager for several well-respected law firms while attending law school. After passing the bar on his first attempt, Mr. Andal went on to litigate and try cases in his first year of practice which is relatively unheard of so early in an attorney's career.
As an Orange County Filipino Attorney, Chris Andal, currently serves on the boards of the Orange County Bar Association [OCBA], Filipino American Chamber of Commerce [FACCOC] and Orange County Asian Pacific Islander Community Alliance [OCAPICA]. He is a past President of FACCOC and OCBA's Young Lawyers, an active member of the Orange County Trial Lawyers Association [OCTLA], and frequently lectures to his peers and various business organizations.
Aside from being a hard working attorney representing Orange County's Filipino Community, Chris is a devoted husband and father of two who enjoys spending quality time with his family, playing ice hockey and golf, volunteering in the community and supporting the local professional sports teams.
When you're in the courtroom, you'll be in good hands with Chris Andal as your Orange County Filipino Attorney.
AS THE PREMIER OC FILIPINO ATTORNEY AND OC FILIPINO LAW FIRM, CHRIS ANDAL AND HIS FIRM PRACTICE A WIDE RANGE OF LAW REPRESENTING INDIVIDUALS AND BUSINESSES WHO ARE LOOKING FOR AN OC FILIPINO INJURY ATTORNEY, OC FILIPINO BUSINESS ATTORNEY, OC FILIPINO ESTATE PLANNING ATTORNEY, OC FILIPINO CRIMINAL ATTORNEY, OC FILIPINO DIVORCE ATTORNEY AND OC FILIPINO BANKRUPTCY ATTORNEY. WE PROVIDE EXCEPTIONAL COST EFFECTIVE REPRESENTATION WITH RESPONSIVE PERSONALIZED ATTENTION.OUR PRACTICE AREAS INCLUDE THE FOLLOWING LEGAL SERVICES:
Personal Injury
Wrongful Death
Product Liability
Premises Liability
Work Injury
Auto Accidents
Truck Accidents
Motorcycle Accidents
Bicycle Accidents
Pedestrian Accidents
Estate Planning
Wills & Trusts
Divorce
Custody
Child & Spousal Support
Criminal Defense
DUI
Drug Offenses
Bankruptcy
Chapter 7 & 13
Traumatic Brain Injury
Spinal Cord Injury
Amputation
Burn Injury
Birth Defects
Medical Malpractice
Slip and Fall
Trip and Fall
Dog Bites
Assault & Battery
Auto Defects
Dangerous Products
Employment
Unpaid Wages
Unpaid Overtime
Wrongful Termination
Harassment
Discrimination
Business Disputes
Contracts
Corporations
Limited Liability Company
Partnerships
Non-Profit
Without proper representation, you could be at a disadvantage. Let us help you get the results you deserve.
OVER THE YEARS, WE'VE SUCCESFULLY REPRESENTED HUNDREDS OF INDIVIDUALS AND BUSINESSES AS AN OC FILIPINO INJURY ATTORNEY, OC FILIPINO BUSINESS ATTORNEY, OC FILIPINO ESTATE PLANNING ATTORNEY, OC FILIPINO CRIMINAL ATTORNEY, OC FILIPINO DIVORCE ATTORNEY AND OC FILIPINO BANKRUPTCY ATTORNEY. SOME OF CHRIS ANDAL'S MOST RECENT AND NOTABLE RESULTS AS AN OC FILIPINO INJURY ATTORNEY INCLUDE:

Truck vs Auto
Recovered: $2.2 Million

Auto vs Pedestrian
Recovered: $1.1 Million

Auto vs Auto
Recovered: $750,000

Truck Accident:Tractor trailer/big rig struck client's vehicle on a two lane highway. Truck driver claimed that client crossed over into his lane of travel. Client suffered multiple injuries. OC Filipino Attorney Chris Andal was able to obtain $2.2 Million.
Pedestrian Accident: Client/pedestrian was struck by an automobile in a residential community. Client suffered a broken leg. Prior to trial, the insurance carrier made an alleged "best and final offer" of $485,000. On the first day of trial, the insurance carrier tendered their insured's policy limits of $1.1 Million.
Auto Accident: Client's vehicle was a struck by defendant's vehicle. Defendant claimed that a third vehicle caused the collision. Client could not confirm how the collision occurred. Defendant's insurance carrier offered $430,000. OC Filipino PI Attorney Chris Andal was able to recover $750,000.

Before you walk into these halls looking for justice, you'll need attorneys that will fight for you.
FREE CONSULTATION AND COST EFFECTIVE FEE STRUCTURES
Chris Andal and his law firm are focused on serving the Orange County Filipino Community. As a first generation Filipino American, Chris understands the plight of Filipino immigrants and how the high costs of legal representation can prevent them from obtaining competent representation, if any representation at all. That's why the Andal Law Group provides FREE INITIAL CONSULATIONS and cost effective fee structures. We are open to a wide variety of fee structures including flat fees and contingency fees in qualified cases. In fact, our policy on personal injury cases is "NO RECOVERY, NO FEE" and we can get you quality medical care without insurance. Call us now to schedule you free consultation.